Back in 2019 London became the world's first National Park City. What's that, you ask? It's a city that makes a conscious effort to give its citizens – and its visitors – plenty of park space, and to encourage "green living."
Former geography teacher Daniel Raven–Ellison started the ball rolling in 2013 when he first crowdfunded for London's green dream.
"London is not just a city, it's a landscape" said Raven–Ellison at the time. "It's a landscape that's home not just to nearly nine million people, but to as many trees. We share this city with 15,000 other species of wildlife."
In fact London compares very favourably with other megacities when it comes to public green space per head of population: ranked tenth among 30 global cities, ahead of similar urban centres like New York (12th), Berlin (20th) and Paris (24th).
So when London signed the pledge to become greener and wilder, it took on a task that includes not just the major parks and wetlands that cool down our city, the small plots of land, tended by local people and businesses, that also make a difference to London's biodiversity and air quality.
So the title for the best hotel in Central London might one day go to the greenest. But green credentials are as much about people power as big ticket projects. Take Aldgate Connect, an initiative from the local Business Improvement District to work with the community, in this case via a monthly lunchtime gardening club. The club is back by popular demand and the next workshop is all about propagating herbs.
Meanwhile, the environmental badge has long been worn with pride by some within the hospitality sector. Blue Orchid Hotels supports sustainably sourced, environmentally friendly products and works with local suppliers. Its newest hotel, Tower Suites in Tower Hill, relies on innovative, high–quality design delivered at low energy demand. It more than satisfies the City Corporations' clean energy development plan for 2026, winning an "Excellent" qualification.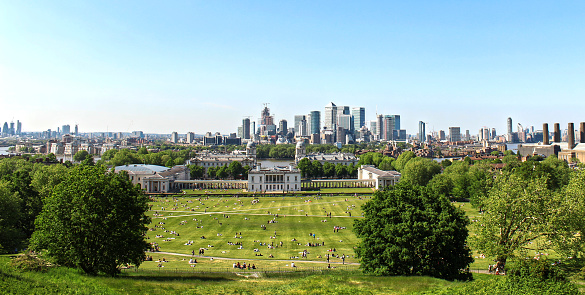 Bigger Greener Better
Currently 47 percent of Greater London is already covered in green space. But the city's target is to push that number to more than half.
London already has 3,000 parks of all sizes designated as 'public open space.' But beyond parks, London plans to grow plants on walls and roofs, and to build wildlife habitats. It also wants to cut down on car pollution.
And London owes a lot to organisations like the London Gardens Trust. It documents and safeguards our verdant treasures in the capital. Their HQ stands on picturesque Duck Island in the middle of St James's Park, and they produce a nifty journal too.
From acres of Royal Parks that stretch across Kensington and Westminster to the pocket gardens of the City of London, there are uninterrupted walks and hidden green spaces to explore. On top of that, there are canals, wetlands and waterways, many of them lovingly tended by the London Wildlife Trust.
The Natural History Museum in South Kensington has already embarked on an ambitious Urban Nature project that will see its own Wildlife Garden double in size, and it will introduce similar schemes across the UK. The aim is to bring nature into our towns and cities. This is a very public commitment to conservation from a major British institution.
And then, of course, there's Kew Gardens: it tends to 500 acres of woodland, on top of the world's largest seed conservation project. Its famous Botanic Gardens has over 50,000 thriving plants in its UNESCO World Heritage Site.
You get the picture? London is green – and no, that's not easy. London works hard at it.
The Queen's Green Canopy
One of the most thoughtful legacies to have emerged from the Queen's Platinum Jubilee is a tree planting initiative which will mark her long reign by inviting individuals and groups to plant a tree for the Jubilee. There's advice on how to plant trees sustainably (see below), and since the planting season runs from October to March, now is a good time to learn about trees and plan in readiness for that six month window.
As well as planting new trees herself, Her Majesty will dedicate a network of 70 ancient woodlands across the UK, and identify 70 ancient trees to mark her 70 years of service.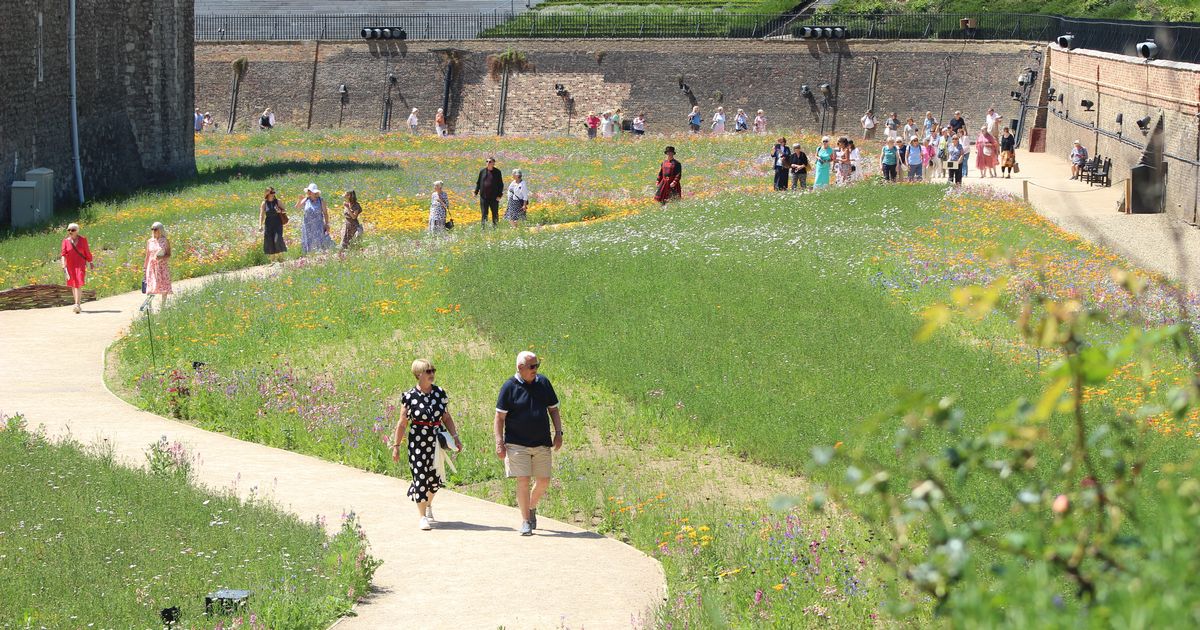 Superbloom at the Tower of London
After a cold, dry start to the year, Superbloom at the Tower of London has more than lived up to its name. Visitors are both awed and delighted at the massed wildflowers, the buzz of insect pollinators, the birdsong (because where there are insects, there are birds – and not all pollinators are bees). There is both an environmental and a human aspect to this self–sustaining, ambitious project.
It was designed to celebrate the Queen's Platinum Jubilee this year, but it doesn't end with 2022. The flowers will bloom again.
It wasn't easy to turn all 14,000 square metres of the Tower's moat into a blossoming meadow. Back in May when the Chelsea Flower Show was being constructed from carefully cosseted plants, Superbloom's 20 million seeds (hand sown) had to deal with nature at her least maternal: weeks with no rain and frosts in April.
Today the man behind this floral triumph, Professor Nigel Dunnett, is happy with the result, and so is the public.
Dunnett is the kind of environmentalist who promotes the importance of gardens and urban parks, as well as putting plants on and around buildings and in high–density build projects. He talks about using plants to enable low-input, colourful and "ecologically-tuned" urban landscapes.
The proof is in the Tower of London. Year after year we will enjoy a stroll among the cornflowers and the sweet peas, the poppies and the toadflax. One recent comment sums it up: it's "the happiest place in London."
There is also an outsized slide so that children and adults can zip into the moat. And Blue Orchid London has some excellent staycation and afternoon tea deals, including tickets to Superbloom and the Tower itself. Afternoon Tea and Superbloom and Royal Staycation.
The Natural History Museum
The Natural History Museum in South Kensington has its own urban nature project which is currently taking shape and opening in 2023. The museum's five acre outdoor site will be transformed into a biologically diverse – and welcoming – wildlife oasis. The scientific staff at the Museum will also carefully monitor what effect the garden has on urban wildlife, and how different species adapt.
It also provides an educational resource. Long term, it will discover the best way to manage urban spaces for wildlife, and identify the species that act as an early warning of trouble to come.
South Ken Green Trail
While you visit the Natural History Museum, check out the South Ken Green Trail, including Hyde Park's 4,000 trees and lake, as well as the Royal Borough's Bee Superhighway!
Westminster and Kensington
St James's Park and Buckingham Palace
The Royal Parks on the West side of town make for a great excursion. St James's Park alone boasts 57 acres of parkland, plus cafe, food kiosks, Horse Guards Parade, The Mall – and a big lake with lots of birdlife, including pelicans. And, of course, there's Buckingham Palace itself. The Rochester Hotel London is on nearby Vincent Square, itself one of the largest green squares in London.
Green Park
On the other side of Buckingham Palace is Green Park. If you have your walking shoes on, you can follow Constitution Hill all the way through Green Park to Hyde Park Corner.
Hyde Park
Boating on the Serpentine, a swim in the Lido; there's also a cafe and that famous art gallery, named after the river.
Kensington Gardens
Kensington Gardens feeds into Hyde Park seamlessly. New planting by the Albert Memorial is part of the South Ken Green Trail.
The Diana Princess of Wales Memorial Walk
This is a 7 mile stroll across all four Royal Parks mentioned above. Follow 90 plaques set in the ground to keep you busy for most of the day. Download a map here.
Holland Park
Ilchester Place, W8
Often overlooked, this long, narrow park near Kensington High Street is a mixture of woodland to the North, plus formal gardens and the peaceful Kyoto Japanese Garden. The Design Museum is near the South Entrance.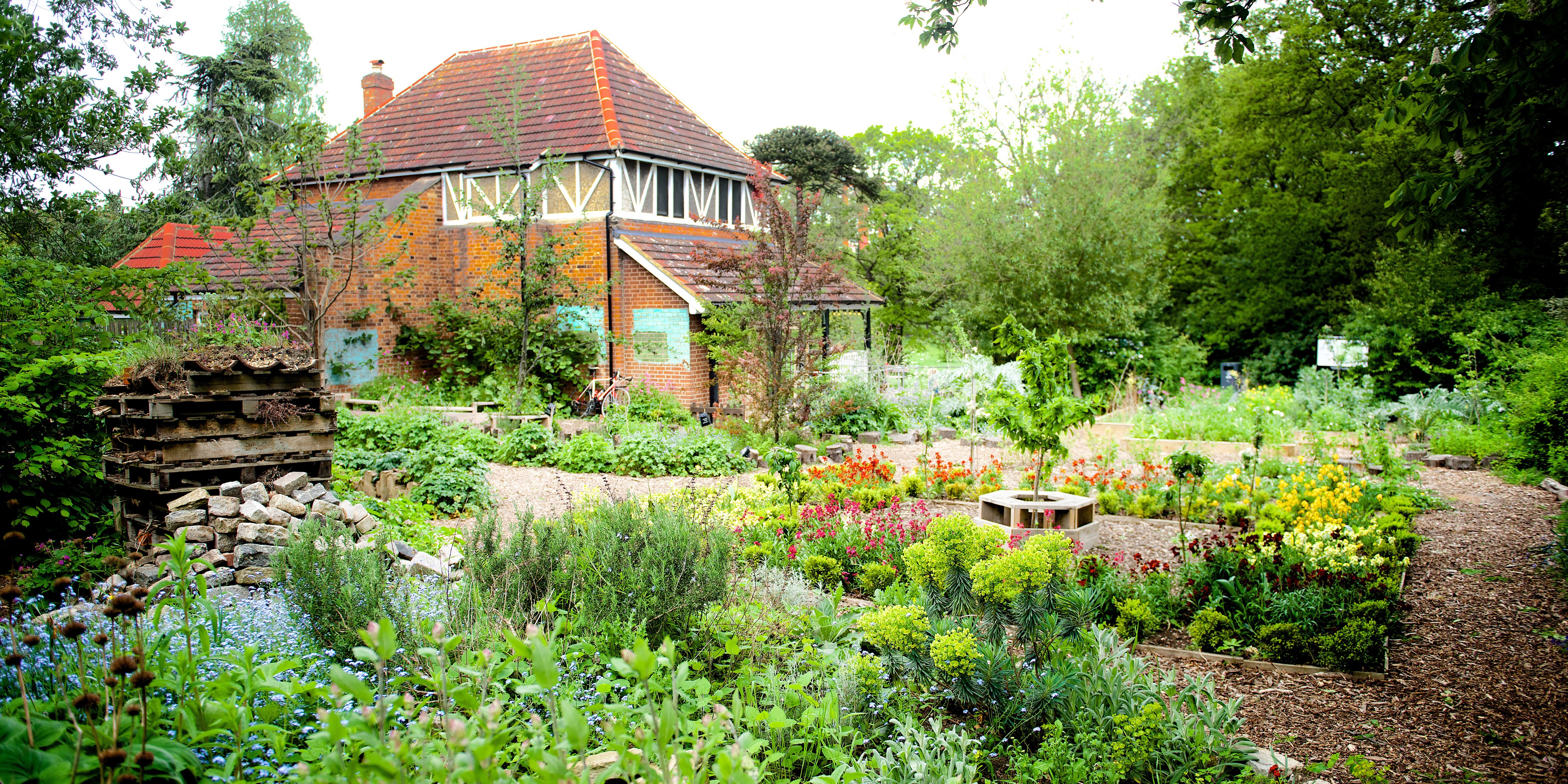 Pocket Gardens of the City
Tower Hill Garden
Tower Hill, EC3
A useful place to start if you want to get your bearings, mainly because can't miss it, being so close to the UNESCO world heritage site that is the Tower of London. It provides shade in sunny weather and a children's playground. It's close to the wonderfully named Seething Lane Gardens.
Seething Lane Gardens
Seething Lane, EC3
Samuel Pepys once lived on Seething Lane, and a bust of him stands among the raised beds and decorated paving. Carved into the paving stones are images relating to his life and the Great Fire of London.
St Dustan in the East
St Dunstan's Hill, EC3
Near Seething Lane is this most picturesque of church ruins. Bombed during the Blitz of 1941 the tower and spire of this Wren church survived. Now transformed into a leafy public garden.
Postman's Park
King Edward Street, EC1
Intriguing public garden famous for its wall of pretty but mournful ceramic plaques marking the heroic deaths of ordinary men and women.
St Anne and St Agnes Church Gardens
Gresham Street, EC2
An attractive Wren church opposite Postman's Park. It survived WWII and the churchyard opens onto an attractive public garden with seating.
St Pancras Church Gardens
EC2
Near Cheapside, access from Pancras Lane
A hidden space containing many delightful and intriguing carved benches in the Romanesque style, all within a paved and planted courtyard. The church is long gone but the modern benches recall church pews and medieval misericords.
Christchurch Greyfriars Gardens
King Edward Street, EC1
Four minutes' walk from St Paul's Cathedral, after WWII only the West Tower survives but it provides a lovely display of blooms when in season.
Red Cross Garden Southwark
50 Redcross Way, SE1
Across the river in Southwark is this garden with its Arts and Crafts cottages. Described as an 'open air sitting room' for the people of Southwark.
Covent Garden and Soho
Phoenix Garden
21 Stacey Street, Seven Dials, WC2
A community park that nestles behind the Phoenix Theatre and provides quite a contrast to Charing Cross Road. Nearest tube is Tottenham Court Road (near the British Museum).
Soho Square
W1
Central London bolt–hole for many an office worker. A statue to fun–loving Charles II has stood here since 1661. On the other side of Charing Cross Road from Phoenix Garden.
North London
Regents Park and Primrose Hill
Regent's Park covers nearly 400 acres of parkland and a boating lake. It even has a large wetland area which shelters 100 species of wild bird. And it's next to London Zoo.
Alexandra Palace and Park
Alexandra Park covers 196 acres of greenery, and among species that share Alexandra Park with us, 38 are classed as rare or protected.
That's a lot of public green space within Central London, much of it close to museums, shops, cafes, theatres and art galleries – entertainments of all kinds. Blue Orchid Hotels span the whole of London, East to West, and they offer excellent facilities for a family vacation.

More than enough reason to look for the best hotel deals London.