The Unconventional Convention of 2022
Welcome to the evolving world of the conference – as much the domain of the World Clown Association as any formal event organised by a robust multinational.
There's no question that a great city like London is an impressive venue for the biggest convention or the smallest meeting. The excellent transport links, the wealth of culture and entertainment on your doorstep are a huge draw. Plus you get to choose from its many well equipped 5 star hotels in Central London.
Of course, thanks to Covid, a lot of these meet–ups have gone virtual. And even as the world opens up again, the word "hybrid" has crept into the vocabulary of conference organisers. A world where face to face meetings combine with internet links.
"The in–person conference is likely to be less crowded than the old days," says Julie Liege, chief marketing officer at Slack, the social forum and communications app designed to unify a workforce and to keep deskless employees in the loop. "Some virtual planning will remain," she says.
Even so, it's beyond doubt that people have missed face to face contact.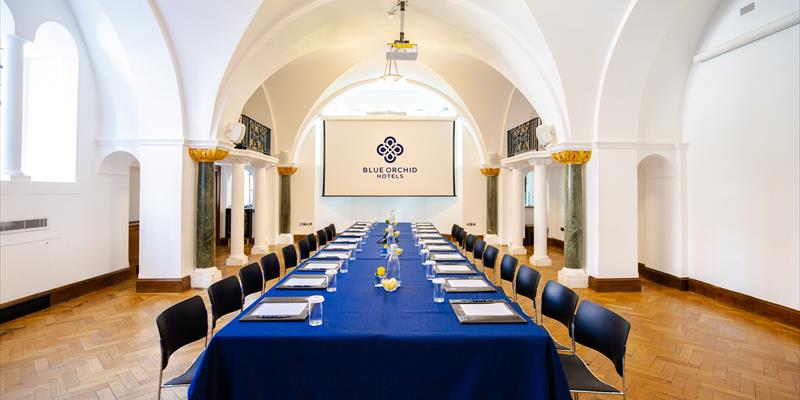 Everyone knows that the stimulus and buzz of the crowd, the opportunity to network, has been sorely missed. All those Zoom boxes on screen don't allow for the many quick–fire verbal exchanges that take place when the chemistry is right.
Plus there is a limit to how long people want to stare at a Zoom screen. The most successful of those events tend to be short (think of the brevity of a TED talk).
There will always be a place for in person conferences. But there are some unexpected online bonuses that have emerged from two years of Covid that many will want to keep.
At its simplest, hybrid events allow those who can't attend in person to take part. This means that the range of speakers (and depth of audience) can greatly expand. The uptake of new tech has accelerated during the pandemic. People have innovated and on the whole, they like what they've found.
For instance, some organisers of virtual conferences have decided to set up a Discord server or Slack installation to run parallel to their events: this allows conversations and comments (chat) to pop up, alongside a panel discussion.
The value of all those chat posts means that everyone, not just the panellists, can contribute to discussions spontaneously. The benefits of the hive mind are there for the taking. This kind of format also encourages talented introverts to take part, the kind of people who would never address a conference from the floor via a microphone.
On top of that, all the material within a conference is recorded and can be archived (or even sold on, if appropriate). It extends its shelf life and reach. Virtual events can also be monitored more closely. Numbers attending and how long they stayed, are all available.
Content can also be captioned, and translated into other languages with relative ease.
But while there are benefits to combining the real–life and the remote, David Meerman Scott (online marketing strategist and author) doesn't see this as the death knell of the in–person conference: "I am very strongly convinced that the physical event business will bounce back," he has said. "Humans crave physical interaction with other humans… That's baked into our neuroscience. Our brains thrive around being around people who are just like us."
Canadian–born writer and speaker Ben Nemtin agrees: "Yes, we can survive without human interaction but it's difficult. Even if you just see someone for 10 minutes and go for a walk with them and stay 10 feet apart, that recharges your battery. You get that same recharge when you see your colleagues and interact face-to-face. You just can't get that in a Zoom meeting."
The ideal seems to be a mix of real and remote. And with an increased tech–led presence, the unusual has found its niche: Tenessa Gemlelke of Confab, (content strategy conferences) relishes the success of separate gatherings for introverts and extroverts: "In the introverts' lounge, it's just for people who feel like: 'I just really want to check my email and please don't talk to me'. These were really popular," she says.
When it comes to choosing conference venues in London then there are three contrasting top hotels in London that offer prestige location, great transport links, flexible conference facilities and tech support, with the back–up of a highly trained staff.
Needless to say, there are considerable benefits to holding an event in a luxury hotel with all the attractions of contemporary decor, a restaurant, spa, gym and rooftop bar, all with breath-taking views of Tower Bridge and the Tower of London.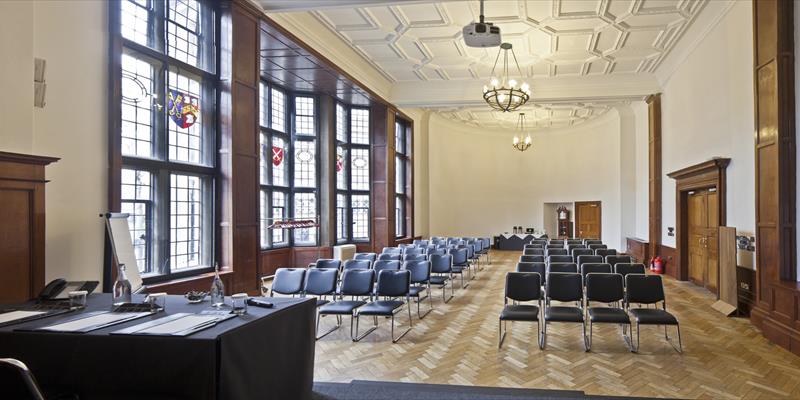 Blue Orchid's Tower Suites London, with panoramas of the iconic Tower of London and great inner city transport links (including London City Airport) is just such a venue.
It offers all the amenities of 5 star hotel accommodation, plus a sophisticated executive lounge and co–working suite. There are nine venues available, every one with natural daylight and adaptable to many different layouts, including theatre, board room, and U shape.
On top of that, Tower Suites boutique apartments are perfect for solo working conditions, or informal post–conference networking, brainstorming and chill–out sessions. Overlooking a garden and two minutes' walk from the nearest tube station, this upmarket all-suite hotel is a five minute walk from the Tower of London.
Amenities consist of a business centre, a restaurant and a sleek bar.
Breakfast is available. Other popular amenities include a spa and fitness centre, room service, full laundry service and concierge.
Wheelchair accessible, air conditioned, even pet friendly.
In terms of health and safety there is enhanced cleaning, personal protection, physical distancing, minimised contact and increased food safety.
There is also access to the airport shuttle, car rental onsite, doctor on call. Languages spoken: English, French, German, Hindi, Italian, Portuguese, Russian, Spanish.
The City of London is an historic financial district, home to both the Stock Exchange and the Bank of England. Nearby is Tower Bridge and on the south side, Southwark and Borough with the Tate Modern and many fashionable eateries. Tower Suites by Blue Orchid rooftop bar is the perfect place to meet after work, with its spectacular views of Tower Bridge and iconic landmark, the Tower of London.
Likewise, Blue Orchid's Westminster–based Wellington and Rochester Hotels both offer flexibility and technical back up with great service, inside the Edwardian grandeur of their respective locations, close to Buckingham Palace, and Big Ben.
The Wellington is a luxury 4 star hotel near London's Victoria Station. Nestled in a tranquil Westminster enclave on leafy Vincent Square, The Wellington hotel combines traditional elegance with contemporary style and modern decor.
Overlooking its own private gardens and terraces, The Wellington provides an idyllic haven away from the hustle and bustle of the city, whilst remaining within easy reach of Buckingham Palace and St. James's Park: one of the most iconic Westminster hotels.
The updated Edwardian elegance of its conferencing and event spaces is complemented by 24 hour room service, concierge and front desk. There is an onsite bar and restaurants, as well as a delightful private garden, with outdoor events and dining available during the Summer months.
Discounted parking rates are available, plus a fully equipped gym. The Wellington by Blue Orchid Hotels is a luxury 4 star venue in London, its nearby star attractions include Buckingham Palace, Westminster Abbey, Big Ben and the royal parks.
Victoria station is within easy walking distance.
Three of the best Central London hotels that offer excellent conference facilities in the heart of a magnificent city. As the world opens up after the pandemic, it's good to know that you, your employees and your delegates are in safe hands.