London's Winter season starts with Halloween, rolls into Bonfire Night and then revs up for the 25 December, before taking the plunge and welcoming in the New Year.
That's two whole months of entertainment from the city that gave you Charles Dickens, Frankenstein and SteamPunk. Not forgetting Paddington Bear.
London's Christmas Lights switch on from 2 November and this famous extravaganza takes up the entire length of Oxford Street, plus Regent Street, Bond Street and Carnaby. On top of that, Covent Garden always promises something special. In fact you could walk, shop and never stop goggling at the display (Eco–LED lights, you'll be pleased to hear). Last year's lights were all switched on at the same time, making it the biggest Christmas light–up in the world.
Perfect for a City Break, especially when there are so many great hotels in London UK to use as your central London base.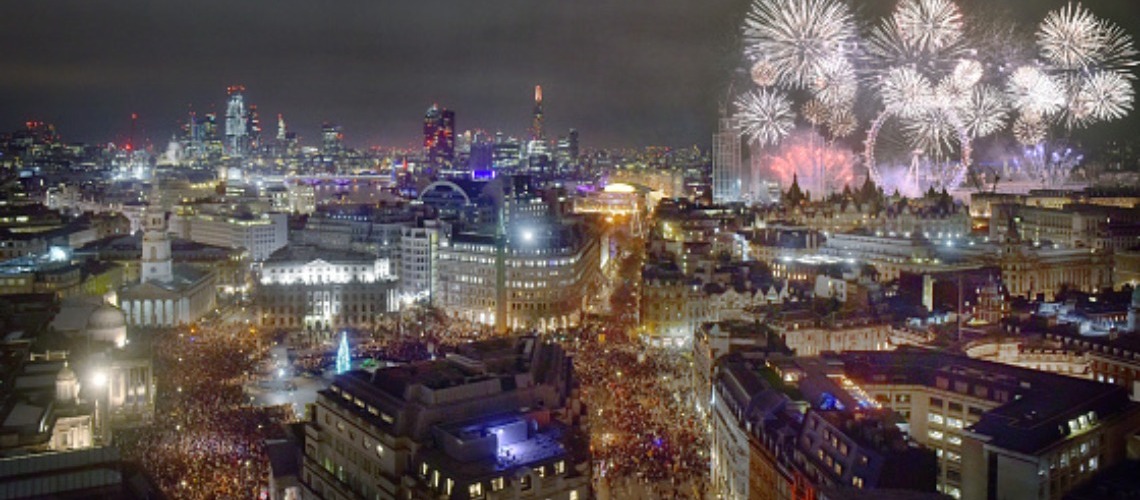 Outdoor Ice rinks are proving a firm favourite during the Winter celebrations. Principal among them is Skate at Somerset House on Strand, Covent Garden. From mid-November to mid-January 2023, you can skate around the illuminated Neoclassical courtyard and then enjoy a cocktail at the Moet et Chandon Skate Lounge. Christmas shops, DJ, food. More information here:
Just on the other side of town is the Canary Wharf Ice Rink, Canada Square Park. This opens earlier, on October 22, and runs right through till the end of February 2023. Flanked by some of London's tallest skyscrapers, there is a rink–side bar and lots of nearby restaurants and watering holes.
Watch out for the Great Christmas Pudding Race in Covent Garden on 10 December at 11am. It's a charity fun run featuring people in fancy dress trying to keep a Christmas pudding in one piece while avoiding obstacles. Very British. And afterwards there is the rest of Covent Garden to explore.
The best of British eccentricity is saved for Christmas Day itself and the Peter Pan Cup. Brave (or foolhardy) swimmers immerse themselves in the icy waters of Hyde Park's Serpentine River on 25 December, to compete in a 100 yard race. A ritual going back to 1864.
Winter Begins
Winter fun kicks off with Halloween and the supernatural.
2:22 A Ghost Story
Piccadilly Circus
Booking to: 8 Jan 2023
Fourth incarnation for this highly successful, award winning chiller. Ages 14+ (theatre entrance faces Eros fountain).
Hogwarts in the Snow/The Making of Harry Potter
Warner Bros Studios Tour
Watford
Until 15 January 2023
Harry Potter devotees can see a whole range props and film sets here. Travel to Warner Bros Watford is remarkably convenient thanks to the Shuttlebus from London's Victoria Station. The Rochester Hotel by Blue Orchid is near Victoria station, within easy walking distance. Also convenient for Buckingham Palace, St James's Park, West End Theatres and the Museums of South Kensington.
Horrible Histories Live
Onboard! Terrible Thames
Tower Bridge Quay
Booking to: 1 Jan 2023
Horrible histories and its wicked river tour. Climb aboard.
The Gunpowder Plot
The Tower Vaults
(next to the Tower of London)
Ongoing
The famous plot to blow up Parliament reimagined: an elaborate immersive experience, taking you back to 1605, with a virtual Tom Felton (Draco Malfoy) starring as Guy Fawkes. Tickets available. Described as "fun, dramatic and exciting…" Get a feel for the experience here.
The Lion, the Witch and the Wardrobe
166 Drury Lane WC2
Until 8 January 2023
One of the UK's favourite stories returns: for ages 6 and up.
My Neighbour Totoro
Silk Street EC2
Oct 8 to Jan 21 2023
The magic of Miyazaki and Studio Ghibli transfers to the Barbican stage courtesy of the RSC. The famous music and anime characters, with puppets and actors.
The Wind in the Willows Wilton's
Wilton's Music Hall
Grace's Alley E1
24 November to 31 December
Wilton's Music Hall presents a magical new adaptation of Kenneth Grahame's much loved Wind in the Willows, from award–winning children's author Piers Torday. Wilton's is near Tower Hill Tube or Fenchurch St. Station. Ages 5+
Follow this link to the website booking page and use the discount code: BLUE15
The Woman in Black
Russell Street, WC2B 5HH
Until 29 April 2023
Susan Hill's chilling tale of Eel Marsh House and the shadows the past. An audience of seven million have been scared by it so far.
Celebrate the Season
64 Eastcastle Street
London W1
Beautiful restaurant in Fitzrovia (designed by Lazaro Rosa–Violan) with open fires and a six metre woodfire stove, serving excellent, accredited wood–fired Spanish paella, from one of the world's best chefs, Quique Dacosta.
Christmas at Kew
16th November to 8th January 2023
This popular after-dark Christmas spectacle features an illuminated trail through London's famous Botanic Gardens: tunnels of light and impressive projections.
Covent Garden Christmas Village: Shop and Stay in Style
Take in Covent Garden's White Christmas experience (snowfall in front of the Piazza's 60 foot Christmas tree) and enjoy exclusive offers and discounts from fashion, beauty and lifestyle brands in these historic surroundings. Afterwards it's back to your hotel for authentic Italian food and a view of the Tower of London. A luxury one night stay for two in Tower Suites and 20% off Spa treatments.
Dans Le Noir
69–73 St John Street
Farringdon EC1
Tired of parties and noise? Then dine in complete darkness. The surprise meal, which aims to heighten every sense except sight. You are helped by blind guides and waiters. Said to be a social enabler too – shyness is no longer an issue in the dark, it is said. Afterwards sit in the lit bar and talk over your experience of dining in the dark.
Party Time in London
Christmas party time is back and Blue Orchid Hotels has the perfect festive plan. From Edwardian grandeur near Buckingham Palace to a 50 metre roof terrace overlooking the Tower of London. And there's more.
Leadenhall Market
Gracechurch Street. EC3
Leadenhall Market is the perfect Christmas setting. Among the most picturesque of London covered markets, it was made famous by the Harry Potter films and can be found near The Monument and London Bridge. Famous for its shops, pubs, restaurants and cafes.
Leicester Square Christmas Market
London WC2
9 November to 7 January
Busy West End Christmas market. Also close to the Lego Store, Chinatown and Theatreland.
London Love Affair Christmas Market
Tower Hill EC3
19 November to 18 December
Fabulous location for a Christmas market, just by the Tower of London and other famous landmarks. London Love Affair's Christmas market has been specially created to provide a satisfying blend of Christmas gifts and London history in an idyllic setting.
Southbank Centre Winter Festival
The Queen's Walk SE1
3 November to 8 January 2023
Street food, pop–up bars, lights, and stalls between the Southbank Centre and the London Eye. Outdoor Winter Light exhibition. Handy for Hayward Gallery and National Theatre.
Trafalgar Square Christmas Tree and Christmas Market
London WC2
On the doorstep of the National Gallery and close to Theatreland and Houses of Parliament.
Winter Wonderland 2022
18 November to 2 January 2023
Thrilling fairground rides and circus shows, the largest outdoor ice skating rink in London, and charming Christmas markets. Family shows, too.
The Great Outdoors
Children's Visitor Trail
Across the City of London
Ongoing
Discover the Square Mile and follow one of three Children's City Trails: Free trail map with stickers and activities available from City Information Centre opposite St Paul's Cathedral.
Visitor Trail
Across the City of London
Ongoing
A 90 minute self-guided tour of the Square Mile. Culture, history and heritage.
10 Centuries in 1 Day
Across the City of London
Ongoing
Self-guided walk, with downloadable map outlining 1000 years of City of London history. The famous Tower of London has pretty much witnessed all 10 centuries, so why not take your time, explore the City and look for the best hotel deals London?
Escape Rooms/Immersive Theatre
AIM Escape Rooms
London E1
Renegade factions, rogue scientists, fiendish puzzles. The games in these high energy escape rooms are designed for families, friends and a range of ages, from 10, 14, 16 years and up. All under 16's must be accompanied by an adult.
Crystal Maze Live Experience
22 to 32 Shaftesbury Avenue W1
75 minutes of frantic team fun. Open to ages 9 and over. Score as many points and get as much time in the Crystal Dome as possible. Four different zones, mental and physical challenges, puzzles to solve.
The Gunpowder Plot
Tower Vaults (next to Tower of London)
Tower Hill EC3
Until 31 March 2023
The plot to blow up the Houses of Parliament in 1605 goes for the big–budget immersive theatre treatment – to good effect (live actors and VR). Using some of the best names, including writer Danny Robins (of "The Battersea Poltergeist" and "2:22 – A Ghost Story") and director Hannah Price. Revisit the complex class and religious conflict of Jacobean England. Impressive and thoughtful.
Jeff Wayne's 'War of the Words' Immersive
56 Leadenhall Street
Until 31 December 2022
Victorian London is under attack from Martians and HG Wells' sci–fi classic has teamed up with 1970s prog rock. VR-enhanced Fighting Machines and actors to guide you through tunnels and into hot air balloons. Impressive real life sets and virtual design. Two hours long.
ExCel London
28 to 30 October
Three days of pop culture, including anime, TV and film. Meet the stars, play the games, enjoy the cosplay. Not everything here is suitable for children, but there is a family friendly experience with the Treehouse: family lounge, family–friendly interactive sessions and performances (details tbc at time of writing).
New Year's Eve
NYE Fireworks London
31 December 2022
Midnight fireworks on the River Thames can be seen for miles around. They last for just over ten minutes, focusing on the Southbank Centre area and London Eye. Tickets are sold for the main display, although you might find a (busy) free space on Westminster Bridge or Victoria Embankment. Or get yourself a comfortable rooftop vantage point like the Skyline London terrace bar and restaurant on Minories, overlooking the Tower of London and Tower Bridge.
New Year's Eve: Jurassic Party
31 December 2022
8pm to 1.30pm
Jurassic themed performers, musical Bingo, live band and dino–themed activities. Also a silent disco and access to Wildlife Photographer of the Year show. Jurassic fancy dress encouraged.
NYE at Somerset House
Strand WC2
Music, food and drink and that famously pretty ice rink. Pop up experiences and a surprise at midnight.
NYE Spectacular at the Southbank Centre
Five floors of party festivities, a regular attraction from which to see in the new year. Sells out fast.
Great views of the city and various options on parties, food, festive cheer, families.
Piccadilly, Regents St, Pall Mall, Trafalgar Square, Whitehall
Sunday 1 January 2023
Free
Find a great base for your New Year's Eve adventure with the 5 star hotels in London. Join the crowds, organise your own party or a romantic getaway, the choice is yours

Whether it's a quick city break: or fabulous views and historic tours: Blue Orchid Hotels has something special for you, from historic Tower Bridge to its Westminster–based Rochester and Wellington Hotels, close to Buckingham Palace and Pall Mall.